What to Expect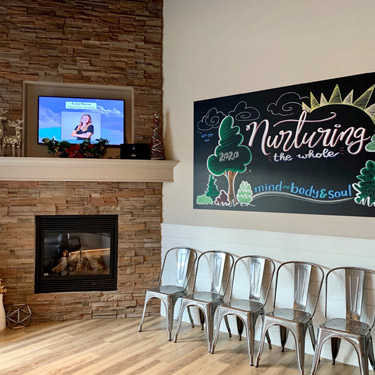 New patients love coming into our office! As soon as they see our fireplace they feel right at home. As chiropractors in NW Calgary we like everyone to feel comfortable and take great pride in our finely appointed office facilities.
Our Home is Your Home
We have plenty of parking which is easily accessible as soon as you enter Beacon Hill Shopping Centre. When our new patients arrive they are greeted warmly at the door and given a tour of the office. If possible, we advise our new patients to kindly fill out their paperwork before arriving as this helps us make the most of their visit once they arrive. Our New Patient Intake Forms can be found on line for your convenience.
PATIENT PAPERWORK »


First Things First
The purpose of your initial visit with one of our chiropractors is to discuss your particular health issues, as well as to discuss your health goals so we can partner with you to help you achieve them. We have many patients who are dealing with injuries, developmental issues and pain as well as many patients who are looking to optimize their health and/or athletic performance. These are all great reasons to seek our help. We start with a thorough physical examination which includes a history, postural assessment, surface electromyography, orthopedic and neurological testing, a stress test including blood pressure and heart rate, a computerized gait analysis and a Bio Impedance Analysis. If necessary, we have the ability to send patients for x-rays and any other diagnostic testing which may be required. You should plan to be in our office for an hour to go through this Initial Exam with
our doctors.
Excellent first appointment with Jessica! For the first time in a very long time I feel hopeful that my muscle & joint pain can improve. Also excellent support from the administrative staff at the front desk. Everyone I encountered was very professional, knowledgeable and caring. Really looking forward to my next visit!

Amazing first visit and I can't wait for more!!! Extremely knowledgeable and thorough. On the road to a better me at a great facility with awesome staff!

Everyone is so nice and welcoming! Amazing first appointment.

I am a returning client. This experience was just a professional and helpful as my initial visits 4 years ago.

Amazing first visit to the clinic!

Truly a great experience and will be back for sure.

An awesome first appointment. Staff are warm and friendly and Dr. Michael was so thorough in his assessment. I felt comfortable and cared for.

This was my first Chiro appointment ever and it was the best one!! I can't stop talking about my appointment to others and how much Dr. Michael has helped me just in my first appointment. From his knowledge to how comfortable he made me feel. I left the appointment feeling like a brand new person and had all sorts of emotions running through me from this experience. I can't wait to continue my journey of getter better at this clinic knowing I am in great hands!

Very informative first session! Dr. Schmolke explained things so well to my daughter.

My first appointment with Dr. Sharis was wonderful. She is so knowledgeable and was able to explain everything she did and why is a very easy-to-understand way. My back felt great after the adjustments she did. I am so very impressed with the care I got from her, and am very hopeful that she will be able to help me.

Great first time experience. The place was clean and the staff were all friendly.
Your Second Visit
When our patients arrive for their second visits, the doctor will thoroughly review their examination findings and make recommendations for care. Our doctor will make a diagnosis and together with you, create a plan of management to help you get better. We call this a "Report of Findings" and it usually lasts 20 minutes. This second visit usually occurs the day after your first visit.
There are a couple of reasons why we have a two-visit approach:
The length of your initial visit is reduced
The doctor has time to thoroughly review the results of your first visit to formulate an accurate diagnosis
Two visits allows us to initiate your educational process to help you learn how to get better, faster
Depending on your unique situation, our doctors sometimes make exceptions to this process, pending their professional judgment.
Regular Visits
Once we spend the time with you to review your history, do our clinical testing, formulate our diagnosis, and create a plan of management, most subsequent visits will usually be for treatment only and will last five to ten minutes. Our doctors can quickly determine how well your spine and joints are moving, as well as how your nervous system is functioning. They can adjust you quickly and get you on your way.
Changes in your spinal, joint and nervous system occur slowly and gradually. Each visit builds upon the next one as your spine and joints become accustomed to moving and functioning through a proper range of motion again. Miss a visit and your progress can back-slide, hindering you from moving forward with your health.
We promise we will do everything in our power to stay on time so that we can maximize the efficiency of your visit to get you feeling better, faster!
Are you a good candidate for chiropractic care? Call our Northwest Calgary chiropractic office to arrange a time to discuss your health issue in person.
CONTACT US »

What to Expect at Beacon Hill Chiropractic and Massage | (403) 516-1141